Corporate, Mergers, Acquisitions and Privatisations
The legal services pertaining to Corporate, Mergers, Acquisitions and Privatisation projects are one of our traditional and most praised areas of practice. Mocanu si Asociatii provides legal advice on a whole array of corporate matters, from the mere incorporation of a legal entity in Romania to complex takeovers and investments.
After more than 15 years of activity, our experience in Mergers & Acquisitions projects is solid and substantial, enabling us to provide expert legal advice throughout the whole transaction process, from planning to execution and completion, as well as on post-transaction matters. We leverage this expertise in providing independent, objective and focused advice and analysis, aimed at assisting timely decision making in mergers, acquisitions, divestitures and joint-ventures.
Our Privatisation practice includes a team of experienced lawyers that provided legal advice in most of the major national privatisation processes. We acted for privatisation authorities in relation to preparing the privatisation strategy and documents, selecting the strategic investor/buyer, closing the transaction, post-privatisation observation. We have also provided legal support to private international or domestic investors during pre- and post-privatisation matters. Our expertise covers the following: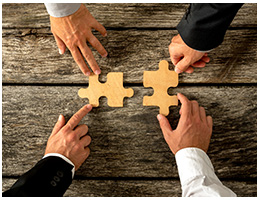 ? Legal assistance, advice and representation in the reorganization and/or restructuring process of state-owned and/or private companies, including, without limitation to:
• Legal analyses of the legal, property-related, economic and financial, social and environmental situation of the companies; performing due diligence reports
• Legal forecasts regarding the organization and development of the companies' activity (irrespective of the share capital structure); performing SWOT analyses and reports
• Preparation/implementation of restructuring/reorganization programs; share/asset sale; share/asset giving in payment; layoffs
• Legal assistance and representation throughout the entire transaction process in mergers, de-mergers and spin-offs, including the preparation of all relevant documentation thereof (e.g. any corporate deeds; the legal component of the merger/de-merger/spin-off projects; the notification of the economic concentration to the Competition Council, where applicable) and representation before the courts of law in Romania and other relevant public authorities and stakeholders (e.g. shareholders, creditors, Trade Register, Competition Council, regulatory authorities, trade unions, contractual partners)
• Legal assistance in drafting and negotiating documents required to attract private investments in the public sector (e.g. establishment of IPP joint ventures; concessions, public-private partnership)
? Legal assistance and representation in privatizations procedures, including, without limitation to:
• Due-diligence investigations
• Transaction structuring; ascertaining the funding mechanisms and assessing the validity of the financial guarantees offered
• Preparation of the documents required to participate in acquisition/privatization procedures
• Assistance/representation in the bidding/negotiation sessions organized for the sale of public or private shares and/or assets
• Participation in the negotiation of the transaction documents (share sale agreements; contracts for attracting investments, guarantee agreements, other relevant documents)
• Preparation of the notification to the Competition Council of the economic concentration deriving from the acquisition/privatization procedures
• Client representation in disputes deriving from or related to the acquisition/privatization procedures
? Legal assistance, advice and representation in connection with the company's day-to-day activities, as well as in connection with the post-transaction period (after completion of operations such as privatisation/merger/de-merger/spin-off).
Back to Practice Areas »