IT&C
With a knowledge-based society constantly evolving and the economy turning digital, our lawyers keep up with our clients' sophisticated requirements and projects. We shape our services to provide the most appropriate legal support to a client portfolio including enthusiastic start-ups to IT&C giants. We advise on matters ranging from regulatory issues, consumer rights, data protection, to large-scale IT&C transactions. Our expertise covers the following:
? Legal advice and assistance on regulatory and compliance matters pertaining to the electronic communications, including on matters related to the issuance of licenses and authorizations in the communications field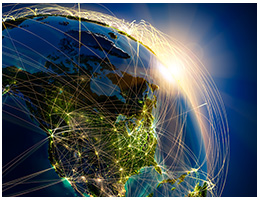 ? Legal advice and assistance in respect of the protection of the intellectual property rights related to computer software
? Legal advice and assistance in respect of the compulsory nature of observing the quality indicators and the technical features by the electronic communications services providers
? Legal assistance in drafting and negotiating various commercial contracts for the delivery of telecommunications/computing equipment or software
? Legal assistance in negotiating and concluding interconnection agreements between the public communications network operators and agreements for the provision of IT&C services and systems
? Legal advice in connection with personal data processing and protection and cyber security
? Legal assistance in the voice and data transmission field, as well as in the electronic trade and electronic payments field
? Legal advice in respect of the electronic signature and for qualifying as provider of certification services
? Legal assistance in respect of fulfilling the environmental obligations related to the waste electrical and electronic equipment
? Legal advice and assistance as regards the fulfilment of the offset operations deriving from the performance of the procurement contracts for defense, public order and national safety needs
? Legal advice as regards the protection of classified information, State secrets and professional secrecy.
Back to Practice Areas »